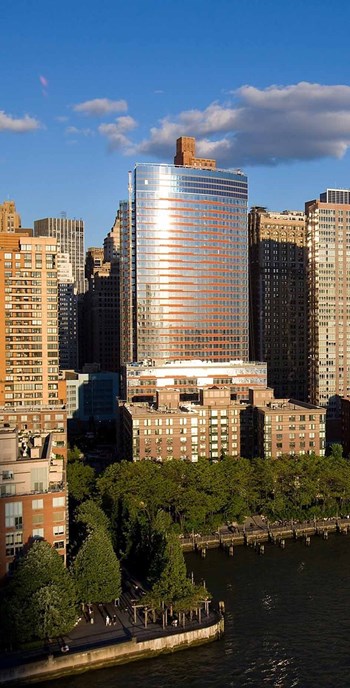 Real estate professionals, developers and builders are all reporting the same thing: today's homebuyers who are looking for maximum value are asking for more than granite countertops and hardwood floors—they want energy savings and green buildings.
LEED [Leadership in Energy & Environmental Design], a certification program of the U.S. Green Building Council (USGBC), has become the leading benchmark for the design, construction and operation of high-performance residential buildings.
Compared to conventional construction, a "green" home applying LEED standards and technology uses less energy and water and fewer natural resources; it creates less waste and is a good fit for the terrain, built with as little impact on the land as possible. It's also believed to be healthier for the people living inside.
The LEED Lowdown
Originally only applied to commercial buildings, LEED standards and practices have expanded to all types of construction. And LEED certification aspirations aren't limited to new construction, either. The USGBC also offers LEED for Existing Buildings, which allows buildings over two years old to get certified by making changes that will make them healthier and friendlier to the environment. Data compiled by the USGBC shows that as of April 2009, almost 2,000 homes nationwide have received the "LEED for Homes" certification. Another 10,000 are in the process of seeking certification—including many co-op and condo buildings.
"A green building is a high-performance building that is more environmentally responsible, healthier and more profitable," explains Ashley Katz, the USGBC's communications coordinator. "Green buildings use less energy, less water and fewer resources. They also have less of an impact on the environment and are healthier places for their occupants."
LEED certification works on a point system. If you earn the minimum 26 out of the total 69 points, your building will certify at the basic 'certification' level. Buildings that earn more points than this will enter into the Silver, Gold or Platinum levels.
LEED points—called credits—may be earned in the five main LEED categories: Sustainable Sites (you get LEED points by not destroying a habitat); Water Efficiency (those low-flow showers and faucets); Energy and Atmosphere (reducing energy use); Materials and Resources (using recycled goods and materials); and Indoor Air Quality, (protection of the ozone and increased ventilation). Credits are also earned for such things as proximity to public transportation.
Spurring Sales in a Messy Market
For new construction, LEED certification is a major selling point—and for existing buildings, becoming LEED-certified can not only save residents money, but it can translate into increased marketability in a very tough market.
Manhattan is no stranger to living green: over 4,000 apartments have been built over the past 10 years in buildings certified green by the USGBC. Green retrofitting saves owners up to 30 percent on energy costs and vastly improves the air quality within their home, no small task considering the air in a typical apartment is 5-10 times more toxic than the air outside, according to the EPA.
Chris Moss, founder of Moss Real Estate Group, New York City's first green real estate brokerage, says that as a real estate broker, he estimates that apartments in green buildings can fetch 10 percent more in the market than non-green apartments.
"LEED certified buildings—especially those that are Platinum—are dramatically different buildings than non-LEED certified buildings. It's certainly not apples to apples," he says.
"Sustainable real estate properties lease more rapidly than conventional buildings," Katz agrees. "And they command higher occupancy and rental rates."
Additionally, LEED certified buildings may qualify for tax rebates, zoning allowances and other incentives. These incentives differ by state and city; you can check out the USGBC website (www.usgbc.org) to view a listing of them.
One person who can testify about how these incentives are helpful is Russell Albanese, president of Albanese Development, the Garden City, Long Island-based firm responsible for developing the first green residential building in North America—the LEED Gold-rated Solaire in Manhattan's Battery Park City. His firm later developed the LEED-certified Verdesian and Visionaire buildings, both also in Lower Manhattan. The Platinum-rated Visionaire uses an intricate water filtration system for its toilets, has a green roof and gets 35 percent of its electricity from renewable energy sources.
According to Albanese, the New York State Energy Research and Development Authority (NYSERDA) was "very helpful" in the realization of the Solaire project, providing a $100,000 grant for LEED design assistance and energy modeling, an incentive of more than $300,000 for an energy-efficient mortgages, and a $90,000 grant for solar panels, among other things. The Verdesian also received NYSERDA incentives. NYSERDA's website, (www.nyserda.org) is also a good place for existing co-ops and condos to start if they're interested in going for LEED certification—or just interested in getting a little greener.
Low Operating Costs—and Other Benefits
Among the features of Albanese's buildings, he says, are solar panels, a "green roof" that makes the building less susceptible to heat, and more efficient windows (that make the buildings less susceptible to heat), lower energy bills, a 25-percent reduction in the building's water-sewer rate, and recycling of waste water for cooling and irrigation.
The Solaire, according to its planners, "was designed to consume 35 percent less energy, reduce peak demand for electricity by 65 percent, and require 50 percent less potable water than a conventional, residential high-rise building." It was the first building designed in accordance with the Battery Park City Authority's "green guidelines," completed in 1999. A cost analysis by Energywiz of Croton, New York, found that annual electric use in The Solaire is on average 37 percent to 64 percent less than a typical New York City apartment of the same size.
Among The Solaire's strategies are photovoltaic panels, maximum use of natural lighting, a very advanced central HVAC system, centralized air filtration, photovoltaic cells integrated into the façade, Energy Star fixtures, occupancy and daylight sensors to turn lighting on and off, and on-site treatment of wastewater and recycling for cooling tower makeup and toilet flushing.
Craig Kneeland, NYSERDA's senior project manager for green development tells the story of a young woman with asthma who couldn't sleep through the night until she moved to the Solaire.
"She hasn't had any problems since then," he says. "They have increased ventilation and a lot of filtration and were very, very careful in the materials that they chose for the building. So you have a direct correlation between a green building and improved health care."
Leland DiMeco, co-owner of Boston Green Realty in Boston, is also finding that while homebuyers are concerned about sustainability and reducing carbon footprints, they're also serious about saving money on utilities and maintenance. "Above and beyond the selling price, consumers are looking at operating costs," DiMeco says. They want to know, what's the monthly price tag?"
His company is involved with updating urban properties in Boston-area communities such as Cambridge, Medford and Dorchester. He points out that in the past, the cost of utilities could put condo buyers over-budget, and that "banks didn't look at the whole picture" in figuring monthly payments. Energy efficient design, he says, "may bring back the condo market—even lenders want to go green."
DiMeco notes that the implementation of green building techniques can vary considerably from one property to another. Some might concentrate on the energy efficiency of the building and interior air quality, while another might focus more on water conservation. "Sometimes it's a matter of balancing health issues with cost-cutting during construction," says DiMeco. "It's the developer's responsibility to [build systems that] need less maintenance. Are contractors recycling [construction waste]? Are they using the best insulation and mechanicals? It's all related to the budget. It doesn't have to cost more to 'go green'—it's done more through exceptional design, before you start doing the work."
DiMeco cites a large residential project in Somerville, Massachusetts that earned a high-level LEED designation. It had a very tight building envelope and included spray-foam and cellulose insulation, bamboo and cork flooring, Energy Star appliances and low-flow water fixtures. The developers opted for a flat, white rubber roof designed to deflect heat, although a true "green" roof covered with soil and plantings would have earned more LEED points. "That choice was made because of cost," says DiMeco. "It's worth it, to budget in green solutions for common areas, and help reduce costs and keep condo fees down. That's the compromise—getting the most green solutions within the available budget."
Low-Impact from the Ground Up
Real estate professionals, too, have been responding to the "green" trend in response to customer demand. Michelle Wardlaw, public affairs associate for the National Association of Realtors (NAR), reports, "The NAR recently published a survey that found 90 percent of recent homebuyers thought energy efficiency was a very important consideration when searching for a home. More and more clients are inquiring about saving energy. To educate clients on what to look for, we're part of the Green Resource Council… It's kind of a movement with entire real estate firms getting involved, or individual realtors. Over 2,000 realtors have signed up for 'Green Designation.'"
To obtain the new designation, realtors must complete a 12-hour core course and six-hour elective course in either residential, commercial, or property management. Nearly 300 courses are scheduled across the United States and Canada for 2009.
The costs to apply are $100, and the exam fees are $300 for USGBC National members; $450 for non-members. There is a credentialing maintenance renewal fee of $50 every two years.
Boards and managers wishing to work toward LEED certification of their building can find everything they need to get started on the USGBC's website. According to Katz, the initial registration fee for the LEED certification program is $450, which gives the project team access to a variety of project management resources. The average certification fee is about $2,000, depending on the size of the project.
Managers themselves can get involved in the LEED program as well, says Mark Mascia, president of Mascia Management in Manhattan. "There are no LEED designations for management firms, but individuals can achieve the status of LEED Accredited Professional, or LEED-AP®." The accreditation allows managing agents to "guide our clients through the green renovation or upgrading process, whether they are pursuing LEED certification for their buildings or not," says Mascia. "The USGBC administers the accreditation for individual LEED-APs, which involves classes and exams that demonstrate their mastery of green building systems and processes."
The Green Building Certification Institute (GBCI) runs the credentialing maintenance program (CMP) for LEED APs and Green Associates, ensuring that LEED professional credentials will remain relevant and meaningful in a rapidly evolving marketplace. "More than 130,000 LEED APs obtained their credentials between 2001 and June 2009. CMP will ensure that those credential holders who tested under previous versions of LEED for New Construction, LEED for Commercial Interiors or LEED for Existing Buildings continue to demonstrate a level of knowledge that places them at the forefront of a constantly evolving green building marketplace," said Beth Holst, vice president of credentialing for GBCI.
For buildings, "The confidence that comes with LEED certification really makes it worth it," Katz professes. "Independent third-party verification means you know your building is saving energy and water just like it was designed to do." Katz reports that the average payback of a green building over its lifetime is 20 percent.
"Once your building is operational, you start saving money," she says. "Add in the health and productivity benefits for the building's occupants, and the benefits for the environment, and it's clear that green building makes both economic and environmental sense."
Marie N. Auger is a freelance writer living in Westminster, Massachusetts. Additional research by Hannah Fons.