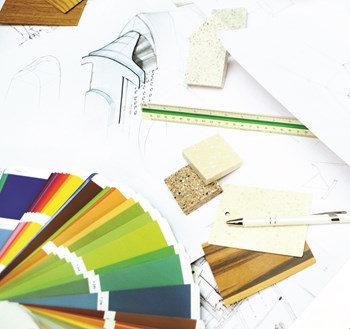 Using the services of a trained professional and making sure you have the input of your constituents - in this case the residents of your co-op or condo building - are two elements of a project that are sometimes hard to reconcile, particularly in the case of a creative endeavor like a remodel or renovation. It is important that all parties know what their roles are, so they can work together and not step on each other's toes. In the case of interior renovations, a shareholder design committee is typically formed and seeks the input of an architect or a designer.
Not every physical change in the building requires a design committee, says architect Steve Zirinsky of Zirinsky Architecture, PC, in Long Island City, Queens. "Something like a boiler room renovation clearly doesn't require a design committee, because most people don't care about how it looks," he says.
However, when you're dealing with hallway and lobby renovation, or even laundry rooms in many cases, a design committee is essential, says Zirinsky, who has worked on several such projects in both Queens and Manhattan. Residents care about the carpeting, the wallpaper, the floor tiles, the color scheme - and they don't hesitate to make their opinions known.
Getting good people on a design committee is important, especially in this day and age when many unit owners tend to be apathetic and hard-pressed to volunteer for anything. Most observers agree that design committees should contain at least one board member to act as a liaison as well as shareholders, although this isn't universal.
Mark Zimmerman, president of the Concord Village co-op complex in Downtown Brooklyn, which has more than 1,000 units, says willingness to compromise is a must for committee members.
"Some [committee members] will habitually sabotage whatever compromise proposals are out there. I call this `the pink and blue controversy.' When you get someone insisting that his favorite color or palate is the only one that should be used, I don't know how you resolve that issue," he says.
The ability to suggest alternatives is another valued trait. "If 48 percent of the people want pink and 48 percent want blue, the compromise is not to use pink or blue, but yellow or green," Zimmerman adds.
An interest in design is, of course, a plus for any member of such a committee. However, when it comes to the wisdom of appointing a resident who's a professional architect or an interior designer to the design committee, opinions vary. For his part, Zimmerman feels that "If someone like that lives in the co-op, that would be super to have them on the committee," while Zirinsky believes that sometimes having an architect on the committee can be problematic. In some cases, that resident professional might come into conflict with the outside architect or designer who is hired to do the job. "Some architects on the committee might feel threatened," says Zirinsky.
How Committees Are Formed
Although this varies from one co-op or condo to another, design committees are often appointed by either the board president or the manager, says Zimmerman.
According to Gary Vander Putten, longtime board member of the historic Eagle Warehouse co-op in Brooklyn's Fulton Landing area, "Typically, these committees are chaired by someone who is on the board - someone who will reach out to members of the shareholder community, who are interested in these types of things. That board member can encourage shareholders who have a sense of design [to join the committee]." Vander Putten, by the way, is a different type of designer-a computer designer.
The number of people on the typical design or decorating committee is usually fairly small - sometimes as few as three to five. "If there are too many people on the committee, you will never get things done," says Robert Harwood of Century Management Services in Manhattan. "You need a small number of people so you can work through things more quickly. With three or four people, at least you will get a variety of opinions." To make best use of the committee members' talents, jobs should be spelled out and be specific.
"One person gets carpet samples, another gets paint samples, a third looks at the type of [design] motif to be used," says Debra Gordon of Kaled Management in Westbury, who manages condos, co-ops and rental apartments. "You don't want 16 people all working on paint-you'd just end up spinning your wheels."
Who's Responsible for What
Once a design committee is appointed, it's important for the board to lay out the parameters about who's responsible for what-or else misunderstandings may follow.
At times, the board may be so grateful that a committee has been formed to deal with a specific task that the board doesn't give the committee members the guidance they need. Committee members may never be told that they have to think carefully about budgets, for example-and this can be a big mistake.
If committee members are not told they have to think along budget lines as well as design, the age-old battle of cost-versus-aesthetics may ensue. Zimmerman gives an example: "One member says, 'Pile wool carpets are very expensive and very hard to maintain,' but another says, 'I want pile wool carpets because they have an upscale look and will improve the value of the co-op.'"
While designers and architects are trained to think mainly in terms of aesthetics, they do appreciate when the financials are spelled out for them.
"When the board says, 'we have a certain amount to spend,' at least it gives guidelines to the designer," says Tanny Farah of Tanny Farah Interiors, a veteran interior designer who has dealt with co-op boards throughout the metropolitan area.
Ultimately, by law, "The board has the final decision on all business matters related to the co-op," says Zimmerman. "If the board wants to take the recommendation of the design committee, it can do so, but if the board wants to re-check it, it can do so without explanation. If you have people on the board who don't like [a design] for whatever reason, they can just reject it out of hand-in which case you have a very unhappy committee."
A Little Bid of This, A Little Bid of That
Although the full board usually has to sign off on the final choice of architect or designer, the process of taking bids varies from one development to another.
Zirinsky says that in his experience, the design committee will take bids from several designers or architects, but it's up to the board to make the final selection. In some co-ops or condos, when committee members aren't as motivated, they may just want to pick out the colors or the general design, then turn the details over to the board or manager.
"Probably the best way," says Harwood, "is for the committee to solicit sealed bids, and the board to then open them up."
While things do vary, in the end, as we've mentioned, the board has to sign off on the final decision. The role of the board is important to the process, says Farah. "Whenever I meet with a design committee, the board president or vice president is usually there."
In all this, we've talked about the committee and the board, but what role do managers and management companies play?
Of course, this all varies from one building or development to another, but Gordon says that in her experience, the manager often recommends designers they have worked with in the past. He or she also helps the committee members with their assessment of particular architects or designers.
"What usually happens is that the manager will go to different sites [where the designer has already designed projects], take pictures with a digital camera and report back to the design committee," she says. Zirinsky reports that in condo projects, the managing agent may play a larger role in the negotiating process with architects or designers than in a co-op.
You Can't Please Everybody
Most of those interviewed are resigned to the fact that no matter what design is decided on, some residents will still dislike it.
"We picked a marble color for our elevator after an arduous process," says Vander Putten. "I knew half the people would love it, but the other half were furious with me. Ultimately, they got over it." There are times when reaction is so intense that the job must be modified. "One time," recalls Vander Putten, "the building felt strongly about a color we used-and despite professional advice, we changed it to placate the residents."
Ultimately, the best strategy might be to better coordinate things between the architect or designer, the board and the shareholders. In some cases, such as carpeting, some buildings redo test areas in different parts of the building with different colors or designs, then take residents' input.
In this writer's Manhattan co-op building, for example, when management wanted to redo the hallway floor tiles, they first implemented two designs on two different floors, to see which one residents liked better. Farah, too, anticipates that not all people have the same tastes: "I give my clients three schemes [for the same project], then give them time to go over it."
As far as liability issues are concerned, says Gordon, they're less of an issue for the designer than for the contractor, who has to be "bonded, licensed, insured and lead paint-certified."
Is there usually one design committee year-round, or are committees formed for every design project - one for an elevator redesign project, one for lobby renovation, and so forth? Once again, it depends on the particular building or development.
At the Eagle Warehouse co-op, Vander Putten says, "There are new committees each time - and I get involved in all of them."
On the other hand, Gordon says the buildings she deals with throughout the metropolitan area have one year-round design or decorating committee.
"It depends," explains Harwood. "If you live in a busy development with many projects, where you're doing first the lobby, then the hallways, then the elevator, it would be better to stick with a permanent committee. Other buildings have new committees every time."
Raanan Geberer is a freelance writer living in Manhattan.