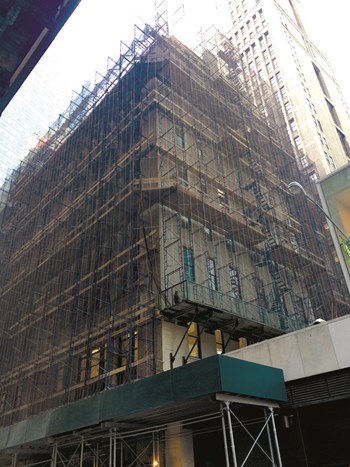 Whether a building is six stories or sixty, ensuring that its façade is architecturally sound is a paramount concern shared by New York City regulators, boards and managers alike. Why? Loose bricks and crumbling debris could cause property damage, serious injury, even death. To this end, safety violations are enforced by law, and sometimes at a great cost.
Local Law 11 Becomes FISP
"The exterior walls of all buildings, old and new, exhibit distinctive forms of deterioration, depending on materials of construction and their age," says David May, RA, LEED AP and principal at the New York City-based SUPERSTRUCTURES, an architectural and structural engineering firm specializing in the inspection and restoration of building facades for over 30 years.
May's perspective is unique as he also serves as board president of a 215-unit Manhattan co-op, which recently completed a major façade restoration project addressing (prior) Cycle 7 Safe With a Repair and Maintenance Program (SWARMP) conditions. To this end, he has a thorough understanding of Local Law 11, now known as the Facade Inspection Safety Program (FISP).
"LL11/FISP is historically perceived as a nuisance for building owners. We'd all rather spend the hard-to-come-by funds on lobby re-decorations, roof decks, gyms, playrooms and other amenities," says May. "Nevertheless, we recommend that owners make the best of the LL11/FISP program by taking a somewhat longer view, and exploiting the opportunity to invest in preventive maintenance of the building's exterior envelope, to actively forestall future deterioration."