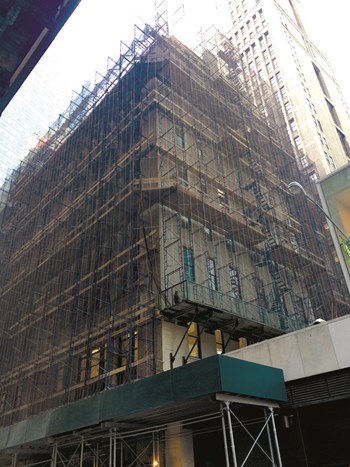 Whether a building is six stories or sixty, ensuring that its façade is architecturally sound is a paramount concern shared by New York City regulators, boards and managers alike. Why? Loose bricks and crumbling debris could cause property damage, serious injury, even death. To this end, safety violations are enforced by law, and sometimes at a great cost.
Local Law 11 Becomes FISP
"The exterior walls of all buildings, old and new, exhibit distinctive forms of deterioration, depending on materials of construction and their age," says David May, RA, LEED AP and principal at the New York City-based SUPERSTRUCTURES, an architectural and structural engineering firm specializing in the inspection and restoration of building facades for over 30 years.
May's perspective is unique as he also serves as board president of a 215-unit Manhattan co-op, which recently completed a major façade restoration project addressing (prior) Cycle 7 Safe With a Repair and Maintenance Program (SWARMP) conditions. To this end, he has a thorough understanding of Local Law 11, now known as the Facade Inspection Safety Program (FISP).
"LL11/FISP is historically perceived as a nuisance for building owners. We'd all rather spend the hard-to-come-by funds on lobby re-decorations, roof decks, gyms, playrooms and other amenities," says May. "Nevertheless, we recommend that owners make the best of the LL11/FISP program by taking a somewhat longer view, and exploiting the opportunity to invest in preventive maintenance of the building's exterior envelope, to actively forestall future deterioration."
Understanding FISP
The Facade Inspection Safety Program (FISP) requires that owners of buildings greater than six stories must have respective buildings' exterior walls and appurtenances inspected once every five years and file a technical report to the Department of Buildings (DOB). The details of the FISP definition are often easier to state than execute.
Robert Grant, director of management for the New York City-based Midboro Management, Inc. explains that the current Inspection Cycle (Cycle 8) runs from February 21, 2015 to February 21, 2020. Cycle 8 is staggered into 3 sub-cycles: Cycle 8A, Cycle 8B and Cycle 8C, which run every two years, respectively. The building number selection process is arbitrary. For example, the last digit of the building's block number determines the sub-cycles in which the report must be filed. For example, Cycle A is for numbers ending in 4, 5, 6, or 9 and runs from February 21, 2015 to February 21, 2017.
"The building has to be within these filing dates, and you can't file early," says Grant. "In order to file a report, the building has to have had an inspection and it was determined that the building was completely safe, safe with a repair and maintenance program to be completed within a four to five year period or conditions were found that were not safe and those violations have to be fixed right away."
For those buildings that failed to submit a Cycle 7 report, the Department of Buildings states on its website that all is not lost for these building owners. "In the interest of public safety, the Department of Buildings is offering an Amnesty Program to owners who failed to file a Façade Inspection Safety Report (FISP) during Cycle 7," the website notes. "The FISP Cycle 7 reporting period ended on February 20, 2015."
If a building falls in Cycle 8A, May says the first step is to review the prior Cycle 7 report to understand what, if any, repairs of Cycle 7 SWARMP conditions are required to avoid their classification as unsafe.
"If your Cycle 7 report classified the building as safe, or if you have already addressed Cycle 7 SWARMP conditions: Congratulations! All you have to do is conduct the Cycle 8 critical examination," says May. "We are now midway through sub-cycle 8A, which commenced in February 2015. Compliance for 8A buildings is required just over 12 months from now, in February 2017."
The second recommended step is to retain the services of a qualified and experienced professional such as a Qualified Exterior Wall Inspector (QEWI) to conduct the Cycle 8 FISP/LL11 examination and file the report with the DOB.
"The importance of selecting a consultant with experience and seasoned judgment should not be underestimated. Specialized professional firms are able to take advantage of Non-Destructive Testing and Evaluation (NDT&E) methods of investigating exterior walls," says May. "Furthermore, depending on the condition of the exterior walls, and based on the outcome of the investigation and reporting process, the board may decide to continue to work with the QEWI on any required façade repair project."
Associated Costs
For buildings owners and boards, undertaking any FISP project can be daunting. The best case scenario is that the building is deemed safe, but often there are violations and these aren't usually cheap fixes. To this end, allocated funds are required which in condos may require a special assessment or in co-ops, perhaps a loan application.
"We always recommend that each and every year the co-op increase maintenance, even if it does not need additional funds for that given year, it is a good habit to get comfortable with," says Harley Seligman, vice president for the New York City-based National Cooperative Bank. "This not only increases reserves but will also, mentally get shareholders accustomed to changing maintenance numbers."
Since there aren't many "typical" FISP projects, the cost can run the gamut, explains Grant. Projects can equate to a few hundred thousand dollars to more than one million. In 2014, for example, the building code local law was amended so that the building's architect now has to list in his or her local law report that all the building's railings were inspected and that they are safe or they are unsafe. The problem was that nearly every building in the New York City had submitted its Cycle 7 report. The amendment required architects to be re-hired.
"You can't inspect balcony railings from a scaffold drop, so the management team has to arrange for the architect to gain access to every single balcony in the building," says Grant. "Building owners then had to file an affidavit, which is essentially an amendment, to the Cycle 7 report stating the building was in compliance. God help those building owners whose balconies weren't deemed safe."
As a result of the amended law, there is now an extra level of costs for balcony inspection. Grant recently undertook such a project for a building that had 90 balconies. "If you have a building with a lot of amenity spaces, you can easily add between $100,000 and $200,000 to the project," says Grant. "This doesn't include the cost of actual having work to do; it's just for the cost of the architect inspecting every balcony."
How—and When—to Pay for FISP
The bottom line for building owners and boards is that FISP will require significant funds. How much money is spent and how long the process takes can be mediated with due diligence.
"In the event a façade repair program is required, a detailed set of drawings and a thorough specification, based on a comprehensive investigation by an experienced QEWI will reduce the number of costly surprises and change orders during the construction phase," says May. "With detailed plans you are in a better bargaining position to buy the project during the bid phase. You also get better prices. When contractors know what they are supposed to provide they can price the project more realistically, and more accurately."
When bids are accepted is when buildings understand how much money they have in the coffers and what they need in order to make ends meet. "When these projects reach our desk, they usually are calling to get a loan," says Seligman. "Most buildings we speak to are debating between special assessment or a loan."
In Grant's view, good management means a board is continually updating its five year capital plan. For example, when a building finished it Cycle 7 report, they board should know that in five years a significant amount of capital cost will be required. Co-ops, he adds, have a "much easier" time borrowing money as these buildings usually have a line of credit with their mortgage
"It would be unusual for a building to pay for these projects with a maintenance increase," says Grant. "What most buildings do is to figure out the project budget and they may have half of the money in reserves and they might gain the other half through assessments. In other cases, the reserve fund is low and the building has to raise 100 percent of the money. It's a big decision that the board has to make."
For building with credit lines, more options exist. For example, the building could pay for the FISP project from an existing credit line. The loan is paid back via an assessment. The assessment per unit doesn't change; the manner in how it is paid is the difference. "The unit owner or shareholder can pay their share in one payment upfront or they can pay it back over a period of years but they are charged an interest because the credit line has an interest rate."
In May's experience, one of the major expenses in a façade restoration project involves the contractor's mobilization and rigging of the building. He suggests maximizing the contractor's role by proactively addressing potential building issues that could cause a violation in the future.
"Take this opportunity to install sealant at windows and A/C grilles, point deteriorated masonry, attend to the interior face of parapets and flashings," says May. "My own building was able to install a roof deck at a greatly reduced cost in concert with a roof replacement project, which was not required by LL11/FISP, but undertaken concurrently with a façade repair campaign."
When budgeting for time, Foster says this is also hard to estimate as there are many moving parts that can turn into drawbacks. These pitfalls can stall projects for several months. Experts agree that early and amenable communication with city agencies and neighbors, that will be impacted, as well as commercial tenants, is critical to the success of a FISP project.
"To protect your neighbors building, the negotiation process, for example, could hold up a project, especially neighbors at a lower elevation," says Grant. "If you are in a landmark district, you first have to file with that agency. This greatly slows the planning of a project. Communication is extremely important."
W. Brad King is a freelance writer and a frequent contributor to The Cooperator.