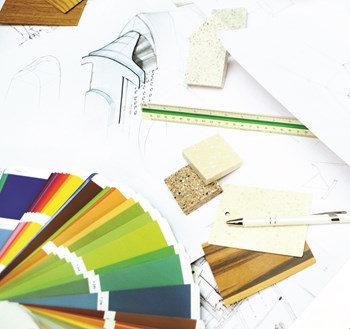 New York City is known for having some of the most impressive architecture in the world, and many of its buildings—whether considered landmarks or just those that people call home—incorporate a vast array of building materials into both their facades and interiors.
Sometimes it seems general contractors are as easy to find as taxis around the city—the yellow pages are full of advertisements. But while they may have the experience and know-how to work with common materials such as plaster and hardwood, there are many buildings in New York that utilize more specialized or luxury materials—and those materials may require maintenance or repair from someone who specializes in their care. For these situations, a skilled workman or someone with a specialized knowledge of the material is necessary.
The pool of tradesmen specializing in unusual materials is dwindling as these exotic materials become more rare and expensive—and thus used less frequently in new construction and renovation projects. Workers who work with things like brownstone, wrought iron, exotic marbles, and carved limestone are hard to come by these days, even in a city like New York. So when buildings decide they want work done with these materials, it's not the easiest thing to find the person most qualified.
Qualified Applicants Need Apply
When it comes to exotic materials, those in the know are aware of how thin the line is between restoration and ruining something.
"You need special knowledge to take care of certain metals like statuary bronze," says Lina Gottesman of Altus Metal & Marble in Manhattan. "That does require special care and someone can destroy it in five minutes if they don't know how to handle it."
Over the past five years, there has been an increase in New York City in the use of sandstone and limestone in building materials. While it may seem like a rock is a rock, and that it might be pretty hard to seriously damage one, that's not actually the case.
"A lot of [builders] are over the granite look we've had for a number of years, so they've started using a lot of the matte-finished limestone; it looks more rustic in a way," says Gottesman. "However, many people didn't really have a clue about what limestone really is and how to care for it. That poses a lot of problems. Limestone is an extremely soft stone. It reacts to acid—it disintegrates in it—and that's why it can't be dealt with the same way that marble and granite can be. With marble, you also have to be a specialist."
Everything Old is New Again
If a co-op or condo building decides to undergo a restoration process, it is critical to take into consideration the total cost of ownership; comprising between material cost, labor cost and durability of the restoration, while not contributing to further deterioration.
"Choosing inappropriate materials or a contractor in the interests of keeping costs down often leads to just the opposite—a higher total cost of ownership due to failure from either the materials, the contractor, or both," says Wayne Bellet of Bellet Construction Company in Manhattan's East Village.
Our Specialty
"There are a lot of contractors who can perform a project using a given product, but they may not be an approved applicator, and you need to be aware of that," says Brian Geller, of AAA Arrow Restoration in Long Island City.
"When it comes to roofing," he says, "you can get certified for just about anything, but there are certain products for which you need to have proper certification from the manufacturer. If you're not a certified applicator, then you can't put down that material. An example of specialized roofing product is called Kemper. It's from a company called Kemp-Co, and it can be a very difficult product to apply. In order to work with it, you have to be properly schooled and approved. Suprema is another roofing product with similar requirements. Most companies want applicators to be approved, so they send them to school to learn how."
The Old Guard
There was a time when trades people guarded their secrets very closely and they passed them on to their apprentices. But that doesn't seem to be the case anymore.
"The truth is, the old craftsman, the old artists, they are diminishing substantially. And unfortunately, so many of these older folks didn't want to train the younger people because they wanted to hold onto their positions," says Geller. "The result of that is we have very few truly talented craftsman left in the industry."
Because people didn't keep plans or diagrams and they took their craft to the proverbial grave, a lot of knowledge has been forgotten. For buildings that were designed and built a hundred years ago or so, that poses a real dilemma—sometimes it means that specialized restoration and repair work can't be done 100 percent correctly.
"Unfortunately, a lot of stuff has been forgotten because there has been so little interest in this work since the Second World War," says Paul Rosenfeld of The Gentleman Painter in Tappan, N.Y., who specializes in painting, decoration, and historic restoration. "A lot of people died—but then there was something of a resurgence [of learning about more traditional materials] in the late 1970s and early '80s, but most of the people like myself have learned on the job."
School of Thought
So with the secrets dying with many of those workers, you may wonder how construction professionals have learned their "secret" crafts at all. According to Gottesman, most people learn on the job these days.
"With the specialty trades, there really aren't good apprenticeship programs anymore for marble or granite or any of those materials," she says. "They are mostly on-the-job training from unions, but very little in the way of true apprenticeships these days. You get brought in to one of the local unions that do the work, and you learn on the job."
Throughout the country there are also some construction-related programs for cement and stone in certain schools. The Construction Institute and The Mechanics Institute in New York both have renowned programs that are designed for helping people learn about these so-called dying mediums.
Gottesman's family has been involved in the masonry and stone business for decades, so she had the chance to grow up in the environment and learn on the job. But she says she still felt it was important to study the business in college, and she studied historic restoration of buildings at NYU.
"You can go to school and learn a craft, certainty, but I don't think there is any substitute for actually doing it," says Rosenfeld. "Most people are in the same boat. They are interested in learning what you can and where you can…and it is a long, gradual process. Hopefully the interest will reach a point where it can maintain a body of craftspeople to get back to where we were. I wouldn't say there is a clear-cut path to this sort of work."
Masonry Repairs
When asked to name a material that one needs to be specialty-trained to work with, Geller is quick to point out a line of products from the Jahn label, which are a very specific array of mortars and industrial building adhesives that eliminate the need for harmful synthetic polymers. Jahn Injection Grouts and Adhesives are free of acrylic bonding agents. The single-component, cementitious, mineral-based mortars are designed for the restoration of natural stones, such as limestone and sandstone.
"Jahn [products] are an exotic cementitious materials that we are finding more people interested in," said Geller. "You have to go through a proper school to be certified to use them. Cathedral Stone Products certifies you."
Cathedral Stone Products, a training school in Maryland, introduced the first training program in the restoration trade in 1989, and has trained thousands of craftspeople in the proper application and finishing techniques of masonry restoration.
Paint By Numbers
In the opinion of Rosenfeld, who does a great deal of restoration and conservation work in New York, people who own co-ops or condos should be doing more when it comes to decorative glazing, gilding, and finishes. He recommends using finishes such as gold and aluminum leaf on specific decorative details and molding.
"People are not educated about this and don't know what's possible," he says. "With exotic material, some materials that have been in vogue the last 10 years or so are Venetian plaster or stucco—a very shiny, polished-looking material. It's a sort of specialty finish, and people who do that don't do a lot of other things. You need special training, and these types of things aren't done the way they were 100 years ago."
Sending out an SOS
Since the workforce that can handle special projects is smaller than most, it makes sense that there would be an alliance or organization that brings all of these people together so they can recommend others and help each other survive.
Rosenfeld says that there are a few trade organizations, but nothing that links the craftsman together. "There are some publications out there trying to cash in on a niche market," he says. "But I'm not aware of a whole lot of effort for skilled people to ban together. I think that would be a useful thing."
The Landmark Conservatory issues a directory that contains specialty craftsman that can work on designated landmark and historical buildings. This is one place where people can go and look for skilled, specialized craftspeople if they are looking to have something done with mosaics, or raw iron or any number of rare stones.
"The Building Trade Association also deals with all the different contractors," says Gottesman. "There are trade organizations you can find—and word of mouth is always good in our business."
Final Thoughts
The professionals feel that the most important thing to remember when hiring someone to work with one of these rare and exotic materials is that boards and managers need to treat their buildings as if they were bringing themselves or a beloved friend to a doctor. Make sure the contractor is qualified in the material, has been properly schooled or trained on the job—and it's always a smart idea to see other buildings where they have done similar work.
When it's time to hire someone, check out the local trade organizations and don't be shy about finding quality workmanship around the city, and asking who it was done by. If you're lucky enough to live in one of the city's beautiful historical buildings, it's certainly worth the effort to make sure its ornamental details and old-fashioned materials are cared for by people who know them intimately and have the training to keep them beautiful for another 100 years or more.
Keith Loria is a freelance writer and a frequent contributor to The Cooperator.