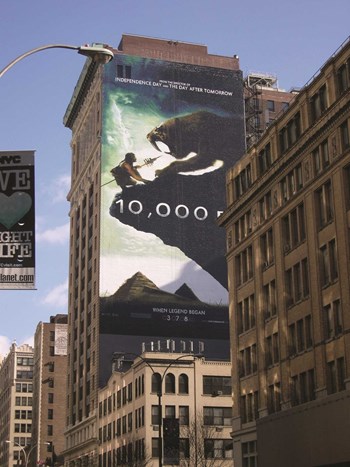 To paraphrase the 1948 film, and later, television series of the same name, The Naked City, there are eight million stories in the naked city. And probably ten times that many signs. They are everywhere, all asking for our attention. There are billboards and banners, blinking neon letters and twinkling LEDs. Go to Times Square and there's probably at least one example of every kind of sign ever devised. It wouldn't be surprising to find a few tablets cut in stone, or parchment scrolls tucked away in some corner, advertising psychic readings or after-theater dinners. In short, signs are all around us.
Like any other tall structure, co-op and condo buildings are attractive sites for advertising signage. Ground floor retail shops showcase their names on brightly-lit signs. Doctors, lawyers and other professionals whose offices are housed in co-op and condo buildings also hang their shingles outside. Some buildings, although not nearly as many as in the past, will rent roof space or that rare exterior wall space for larger-scale advertising purposes to earn a few extra dollars for the annual budget.
Attractive as the prospect of "free money" from advertisers might seem, the question of whether to allow signage on your building requires special attention from both board and management. It's never just about sending a worker up a ladder with four nails and a glossy new banner. There are zoning questions. City code questions. There are insurance considerations and contracts to iron out. There's size and scale and questions of architectural taste and image. It's a process into which no building should jump unprepared.
Sign of the Times
When it comes to co-ops and condos, most building signs are put up by commercial tenants on the lower floors. For most residents, finding the perfect balance between a sign that gets the message across and a sign that's just too big or ostentatious can be a delicate act.
"A co-op is a home for hundreds of people," says attorney Andrew Brucker of the law firm of Schechter & Brucker PC in Manhattan. "They want it to be nice. They don't want big signs all over the building." Which is why the days of renting building space for advertisements may be dwindling. "Just renting out space like that takes away from the building," Brucker says. "It takes away from its status. And buildings want to be high-class, no matter where they are."
To avoid problems later, Brucker strongly recommends that any and all decisions about signage be discussed thoroughly before a commercial lease is signed. "What kind of signs will these people put up? It's in the lease," he says. "When we rent space to a doctor, for example, we always negotiate the sign itself when we negotiate and sign the lease. We put measurements in. We talk about where the sign can be, specify that we don't want neon or an illuminated sign."
With the all the details hammered out at lease signing, there is zero chance that the new tenant will show up with a 20-foot-tall, giant blinking stethoscope or some other monstrosity in tow.
These days, however, most questions of scale and scope have already been answered for exterior signage. "In buildings, people are usually replacing signs, not adding new ones," Brucker says. Which means they're not asking for different sizes or placements. It's simply new tenants using existing signs to advertise their wares.
"We really look at signs seriously," Brucker says. "We make it an important quality of life question."
So Many Choices
Adding new signs or changing the size or placement of existing ones must first be cleared in terms of city codes and regulations. "It all depends on the zoning," says Eugene Nifenecker of Manhattan Signs & Designs. In general, zoning codes determine what percentage of storefront can be used for signs. In some of the more upscale neighborhoods, that percentage can be quite small—a measure designed to preserve the look and feel of the area.
When it comes to replacing old signs or adding new ones, there are a number of different types and styles buildings and their tenants can choose from. There are hanging signs. There are metal signs upon which words or images can be engraved or etched using acid, allowing for more detailed and intricate designs. There are illuminated signs, popular with commercial tenants that come in several varieties, says Nifenecker. There's the typical box with a face on it where all the electrical and lighting is hidden within the box and only one wire is needed to go into the building.
In addition to those, Nifenecker says there are signs composed of individual letters on a "raceway" that protrudes from the side of the building. Each letter is electrified through the raceway's trough, which contains the wiring and is in turn attached to the building. And there are individual "channel letters" in which neon or LEDs are placed within a letter-shaped metal housing. Each letter is individually wired, meaning holes must be drilled into the building at each attachment point. For tenants who may not be staying long, that type of sign may cause more wear and tear than is necessary or desired. "The choice all depends on the architect or designer," Nifenecker says. "It depends on the lease, how long the business is contracted to stay in that spot and other factors."
Another type of illuminated sign is just making its way onto the market. In response to the global warming situation, Nifenecker's company has worked alongside an Israeli tech firm to create state-of-the-art, solar powered LED signs. "Currently, we have signs in place that have gone 14 days without sun and are still going strong," Nifenecker says. These signs have the photovoltaic cells integrated directly into the sign so no solar collectors or panels are visible. Careful study of weather patterns help them determine how much battery power will go into the sign, which does not draw any of its power from the city electrical grid. "It goes off when the sun comes up, and it goes on when the sun goes down," Nifenecker says. "It's totally self-sustained."
Getting the Hang of It
Whatever the type of sign being hung or mounted, it is imperative to have the right work crews tackling the job.
When it comes to signs, safety concerns can range from loosened signs that fly away in heavy winds, potentially injuring pedestrians or destroying property to concerns over the well-being of the sign installers themselves, as they work perched 20 or 30 feet above the ground.
There are a lot of firms that say they can hang a sign but whomever is hired to hang a sign on your building needs to be experienced, and needs to have the proper insurance coverage.
And you can't simply take someone's word for it—it's imperative for the property manager or board to get details on the vendor's insurance status. A painter, for example, might have insurance, but his coverage might not qualify him to hang a sign 20 feet off the ground. According to Sam Nixon, a project manager with Manhattan-based Godsil Construction Inc., it's vitally important that building administrators properly vet anyone hired to affix signage to their exterior.
"You need to make sure your installers have proper insurance coverage, and that their documentation is complete and authentic," Nixon adds, noting that information can be easily falsified. Nixon adds that building management should obtain an original form, then verify it with the insurer, making sure to give them the details of the job and to double-check that their information matches up with what the board was given. That way, the board can satisfy itself that the signage contractor is qualified, and avoid any sticky liability issues that would arise if he or she weren't.
Nixon also recommends that boards and managers ask their signage contractor about the methods and materials they plan to use on the job. This allows management to not only know what will happen during the work process, it also reassures them that the worker has done the job before.
If a building is installing a rooftop sign, "You have to make sure that the company leasing that space is responsible for any damages to the building," Brucker says, or the people on the ground below.
When it comes down to the question of who is liable in the event that something goes wrong with a sign, "Typically it's going to be the tenant—but really everyone's going to get sued," says Brucker. That is why the initial lease document is so important. "The lease should say that the tenant is going to indemnify the building." And the lessee needs to have proper coverage.
With proper planning and attention to all the details—from signing the tenant lease to securing a contractor—signs can be painless. Ultimately, with the right design and the right flair, they can add a bit of style and color to a façade, while generating much-welcomed income for their host building.
Liz Lent is a freelance writer and teacher living in Michigan.