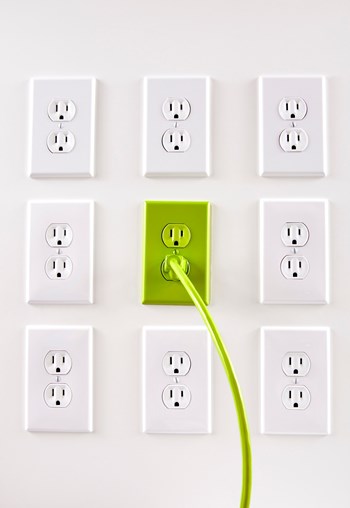 While there are a number of issues that make it to the top of the list of building managers' and board members' fiscal worries each year, the standout issue in recent years is energy costs. In light of rising fuel prices and increased demand for energy, it's the fiduciary duty of all co-op and condo administrators to examine what cost-saving options are out there to reduce utility costs.
Self Awareness
First and foremost, it's important for everyone to get a clear picture of their building's energy usage and learn what policies they might implement to help save them money. The most practical way to do this is by having an energy audit. You can also look into different billing plans that the utility companies offer, but these will all be covered in the audits.
Even before an audit is done, there are ways for buildings to make small changes on their own to help lower costs.
The prime areas for saving money are in the parts of your building where energy is used 24 hours a day. Stairwell lighting, hallway lighting, and generator room lighting are just a few examples of where energy-efficient bulbs can be used to trim energy usage and save money.
"Essentially, we look at the systems that the building has," says Fred Ornstein, program manager for Con Ed Solutions. "In the incinerator room for example, [the lights] could be door-controlled or occupancy-controlled so that they only come on when someone is in there. This reduces the use of electricity, but still serves the need."
Examining Overpayment
Aside from identifying physical aspects of a building's energy profile, an energy audit also looks at the less tangible things. Every component of every utility bill should be carefully scrutinized for accuracy in order to uncover and eliminate hidden overcharges. Furthermore, a thorough comparison of current costs against alternative rate structures based on the building's equipment and load profile should be made in order to take advantage of every available billing reduction opportunity. To simply assume that utility bills are accurate and that the utility companies are charging the lowest rates available can be a costly mistake.
"The public service commission's position is that the customer is responsible for choosing the lowest available rate," says Michael Lockhart of American Telephone & Utility Consultants, Inc., a company that does extensive energy audits for New York City buildings. "Unless it can be demonstrated that the utility company was at fault, the customer will not be entitled to a refund for the prior months' bills. Therefore, the sooner an audit is performed to identify alternative rate structures, the better."
Audit Time
Unless you just happen to be an electrical-engineering genius, there is really no excuse for not having an audit done on your building. There are plenty of reliable companies out there, and since the success rate for finding errors and energy-saving for the future is so high, the process pays for itself.
"I always tell building managers to hire a reputable utility cost consultant, because I strongly believe that everyone should have a consultant continually reviewing all of their accounts," Lockhart says. "Many managers believe they have it under control and don't need outside help because their accounts payable person or director of engineering has a few success stories about finding billing errors. But since we work on a contingency basis, they have nothing to lose by allowing us to review previously paid invoices."
An audit usually consists of a thorough on-site survey of the premises when warranted, inspecting metering equipment and examining the specific usage of each service. Then, using an extensive tariff library and proprietary software that automatically flags billing errors and compares alternative rate structures, analysts work to obtain the maximum refunds and secure the lowest rates.
Everyone Makes Mistakes
Frank Maris, a sales manager for the utility refund specialist UtiliSave LLC in New Rochelle, also believes that every building should have an audit conducted—and says that the results will more than likely be very positive. In fact, he claims that the savings can average between four and 14 percent of the original bills.
"We do an extensive, intensive audit. We download years of data from utility companies. Errors could have come from billings, meter readings, misapplied discounts, non-functioning meters, unapplied credits, power adjustments and taxes," he says. "Things like that can all be done incorrectly, and we make sure they are found and corrected."
The amount a building saves will vary depending on each utility (gas, electric, steam, water), each utility company, a client's heating and cooling equipment and load profile, and metering arrangement.
"We have obtained billing reductions as high as 90 percent," Lockhart says. "In that case, the gas meter was registered 10 times too high due to an incorrect gas instrument drive."
Interpreting the Data
Once an energy audit is conducted, the findings are presented to the board members or management company in writing. Audit companies are usually more than happy to schedule an in-person meeting to help explain everything that was discovered.
"We give them a report of our findings, we show them all the errors and a detailed report of what we propose to do to help save them money," Maris says. "If we find any savings available, we advise them of those rates."
"The best way to do it is for the building to have a contact who is intimately involved in the process," says Ornstein. "The report is delivered to that contact, reviewed with that contact, and then they schedule a presentation to the board. It's very important that the board gets involved, or [the audit results] will just sit on someone's desk and nothing will be done. There may be some questions to the conclusions and how they were reached."
Set Your Schedule
An energy audit isn't something you do once and then forget about. When you hire an auditing company, they will continually monitor your utility costs and look for ways to save your co-op or condo money.
"When you're clients of ours, we manage your accounts all the time," Maris says. "We review things monthly and quarterly. We're consultants, and we constantly look for better rates available under different clarifications."
Since new rates, discounts, riders, programs, tax laws and other tariff changes are constantly being made, it is important to monitor the various sources for this information at least monthly. If your building only has its energy costs examined every six months, you might have just missed six months of savings—or worse, an incentive program may have already filled up and is no longer available.
Individuals Can Help
A truly organized co-op or condo can have its residents help in saving money as well. Although people like the freedom to buy what they want, if they want to help control costs, there can be a list of acceptable appliances that they can buy if a replacement is needed.
"The thing that won't be touched in an energy audit is the hidden users of electricity that operate all the time," Ornstein says. "For example—refrigerators in apartments. When residents replace them, they could buy preferred models [from a list] issued by the co-op or condo. Energy-efficient ones that can help reduce overall cost. Same with air conditioners."
Rob Merker of Merker Advisory Services, a real estate tax and water consultant in Port Washington, has another suggestion for individual unit owners becoming more aware. He sometimes recommends that co-ops install submetering, which will monitor each unit individually.
"We recently had one co-op go from one big meter for the whole building to putting in separate meters for each apartment—now everyone is responsible for their own electricity," Merker says. "There are some real estate tax benefits for doing that though the J-51 program and it was subsidized by NYSERDA."
Final Thoughts
In the long run, remember; you are looking to tune up your building the way you would your car. You need to monitor the operating systems and find out what can be made more efficient.
"I think the most important thing to understand is that the energy landscape has changed over the years," Ornstein says. "The cost of energy is higher—and because it is higher, everyone should take a look at what they can do in their facility to help it become more efficient. Efficient means doing more with less energy, not the opposite."
Keith Loria is a freelance writer and a frequent contributor to The Cooperator.