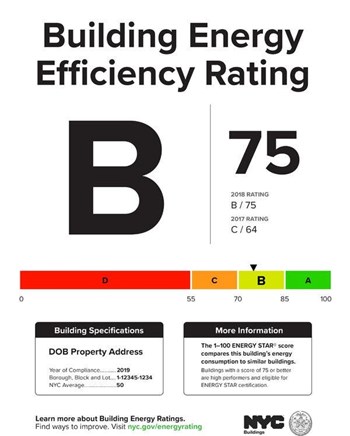 According to a recent notice from New York City-based firm RAND Engineering & Architecture DPC, following the precedent set at New York City's restaurants, building owners will now have letter grades posted outside their entrances as well. However, unlike the restaurant grading system, which is based on the findings of Health Department inspectors regarding cleanliness, food storage, and other hygiene-related standards, the new building grades will reflect each structure's energy efficiency profile.
The NYC Benchmarking Law mandates that owners of buildings over 25,000 square feet are to submit an annual analysis of their energy and water consumption to Energy Star Portfolio Manager, the federal Environmental Protection Agency (EPA)'s online benchmarking tool. Buildings will then be assigned energy efficiency scores from A to F, based on the findings of that analysis. The score ranges and letter grades break down as follows:
A - score is equal to or greater than 85;
B - score is equal to or greater than 70 but less than 85;
C - score is equal to or greater than 55 but less than 70;
D - score is less than 55;
F - for buildings that didn't submit required benchmarking information;
N - for buildings exempted from benchmarking, or not covered by the Energy Star program.
According to RAND, "Building Energy Efficiency Rating labels will be available in the NYC Department of Buildings' DOB NOW Public Portal annually on October 1. Building owners must print and display the label in a conspicuous location near each public entrance by October 31 of each year; failure to do so will result in a DOB violation and an annual fine of $1,250."