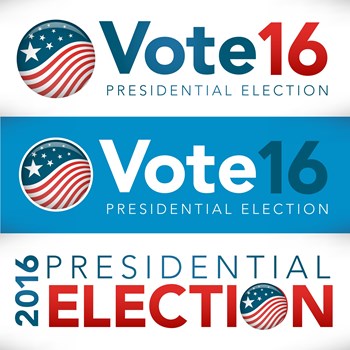 With the 2016 presidential primaries in our rear-view and the general election just a few short (read: long) months away, New York City is another victim of the presidential circus. Bernie Sanders alone recently whipped leftists into a frenzy, drawing unprecedented crowds to rallies at both Washington Square and Prospect Parks, and the other candidates (save for Ted Cruz, who garnered less hype on his Big Apple tour) were no slouches themselves. With all of this political fervor in our midst, co-op and condo residents may also be "feeling the Bern," or looking to advertise that they, too, want to make America great again.
"Every set of bylaws in condos and proprietary leases in co-ops and house rules prohibit any kind of electioneering—not even stickers on doors," says Stuart Saft, a partner with the Manhattan-based law firm of Holland & Knight. "There may be instances where these things happen, but I've certainly seen nothing of the sort of late, and we've just endured the most hotly contested skirmish between the two dominant political parties."
Sign Me Up
Peter Lehr, director of property management at Kaled Management Corp. with offices in New York City and Westbury, Long Island, echoes this sentiment: "I have not, in all of my years in this business, had [electioneering] become an issue. Never once, and I'm trying to rack my brain. Obviously, after 9/11, people hung flags out of their windows, and, as a loyal patriot, I would never have even thought to tell people to pull those back. But that's about it. I've never really once seen political paraphernalia become an issue."
Lest one think that flags are a safe bastion of (semi-)political expression among condos and co-ops, let Barry Manson, an attorney and president of ABM Management Corp. in Great Neck, disavow you of that notion: "Believe it or not, we represent one condo that prohibits even the flying of the American flag, save for holidays, in its bylaws. Although they don't particularly enforce that rule."

The Flag Act
Co-ops, condos, HOAs and single-family homes, under law, cannot prohibit flying of the nation's flag under legislation signed into law in 2006. The Freedom to Display the American Flag Act "states that a condominium association, cooperative association, or residential real estate management association may not adopt or enforce any policy, or enter into any agreement, that would restrict or prevent an association member from displaying the U.S. flag on residential property within the association with respect to which such member has a separate ownership interest or a right to exclusive possession or use."
While the aforementioned condo is admittedly an outlier, flag restrictions are more the rule than the exception. "Most of the properties we manage allow the American flag to be flown, but they prohibit pretty much anything else: no political sticker of any kind in almost every single building in our purview," notes Manson.

"We had a retired Air Force Colonel who moved into a complex in Suffolk County and began to fly the Air Force flag underneath the American flag," Manson continues. "The board had a prohibition against anything other than the American flag, and thus they threatened to take him to court. I settled the matter by getting both parties to agree that the colonel would fly the Air Force flag under the American flag on federal holidays only."
When residents do try and make their political affiliations known, it's not without pushback. "I went to an HOA last week, and someone had Trump posters plastered all over their windows, visible from the driveway," recalls Bram Fierstein, president and co-founder of New Rochelle-based Gramatan Management. "They had previously put political posters on their front lawn, and, as that is considered common area, we asked that they be removed. Clearly they had learned their lesson."
Losing My Religion
Where exceptions do lie is usually in the realm of religious paraphernalia, says Eric Goidel, a partner with the Manhattan-based law firm of Borah, Goldstein, Altschuler, Nahins & Goidel, P.C. "Boards will generally make some degree of exception in the hallway for religious displays, such as a Jewish mezuzah, a Christian cross, a Muslim prayer rug and the like," he says.
"But while campaign fliers are occasionally placed under doors, in competition with Chinese take-out menus—both violations of house rules—I have seldom seen any political displays posted by residents of any development, and boards would be well within their right to require their removal. Perhaps this is the product of apathy or, better yet, ambivalence relative to the political process. But, more likely in this political cycle, it is the product of not wanting to admit for whom you are voting."
Mike Odenthal is a staff writer for The Cooperator.