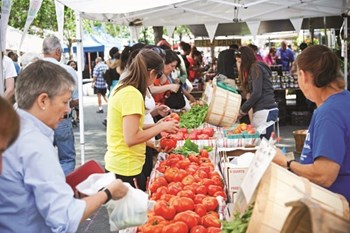 For most, living in a co-op or condo association implies at least some level of interest in being part of a larger community. That interest is usually limited to the condo or co-op community itself – but what about the greater community around your building? Do co-ops and condos integrate themselves into the greater communities around them? Do they extend themselves outward to build quality of life in their neighborhoods, or are they more like islands unto themselves? The Cooperator took a look around Manhattan's Washington Heights to see how those invested in their buildings also invest in their neighborhoods.
The Meadow on Overlook
Judith Graeff and Doug Proops have lived at 736 West 186th Street in Washington Heights for approximately 15 years. Their 54-unit co-op building, located on the corner of west 186th Street and Overlook Terrace, faces the sheer granite outcropping that rises up to Fort Washington Avenue above. Atop that outcropping sit many apartment buildings, as well as the Manhattan Early Childhood Center, operated by Birch Family Services. The rear portion of the lot on which the school building rests is a steeply sloped, undeveloped portion of land fenced in at the bottom along Overlook Terrace. The drop is so sheer, the vacant portion of the lot is barely visible from the school's playground at the apex of the hill.
Over the years, the lower portion of the fenced lot, which is visible from half the apartments at 736, became overgrown and garbage-strewn. In 2013, Graeff was on the co-op's board. She received a note from another shareholder in the building noting the condition of the lot and asking if there was anything the building could do about its unsightliness. "Officially," explains Graeff, "we couldn't do anything, but we did write a letter to the director of the school, and the school was very responsive. They wanted to do something to improve the situation. We offered to help."
Initially, the school appealed to local nurseries for proposals to improve the overgrown lot. One offered a $3 million plan. Clearly, that was out of reach. A more modest plan to plant six dogwood trees was enacted. Four of those trees survived and continue to grow, but that approach didn't address the problem sufficiently. Graeff and Proops, both of whom had interest in botany and horticulture, attempted seeding the lot with wildflowers to begin rehabilitating the space. They literally pitched seed bags over the fence – and lo and behold, the seeds took, eventually carpeting that section of the trashy lot with free-growing wildflowers. Life finds a way.
Graeff and Proops didn't want to create a formal garden, though. Their approach was to create a less labor-intensive, more natural environment. "Our botanical approach to rehabilitate the yard is to create a 'meadow' by introducing plants, flowers, ferns, and shrubs that grow wild in the Northeast and will spread on their own," says Graeff, "doing battle with the weeds, slowing erosion of the slope, and eventually not needing any upkeep. As we clear a section of weeds, we are introducing wildflowers of the area; black-eyed Susans, cone flowers, shasta daisies, tiger lilies, ferns, lily of the valley, and asters. These plants serve as pollinators and food sources for bees, butterflies and birds. It will take several growing seasons to see what plants thrive and spread, and compete successfully with the weeds. This approach is different from a manicured garden which needs constant tending to retard weeds, enrich the soil, kill bugs, give extra water, add mulch, etc. The boulders and severe pitch of the property make that kind of gardening unrealistic."